How to Make Your Google Grant Work for you Through Google Ads
Google offers support to nonprofit organizations by offering Google grants for its ad network through the Google Nonprofit program. A Google grant allows nonprofits to bring awareness to their organizations and prompt supporters to take action (from donating, volunteering, and learning more) by using $10,000 in free ads! For those who are eligible, they are easy to obtain but take some investment of time to keep. Let's break down the steps for getting your account up and running, as well as the grant guidelines into steps you can take to make sure you are getting the most out of your Google grant.
Create Focused Ad Campaigns
Google Ads accounts are structured by campaigns, then ad groups, then ads. You'll want at least 2 of each to comply with Google guidelines. So, if you have two campaigns, you'll have at least four ad groups total, then eight keyword groups, and 16 ads total. That's where to start because as you get data, you'll want to pause and eliminate ads that aren't converting. Here's a graphic that breaks this down visually.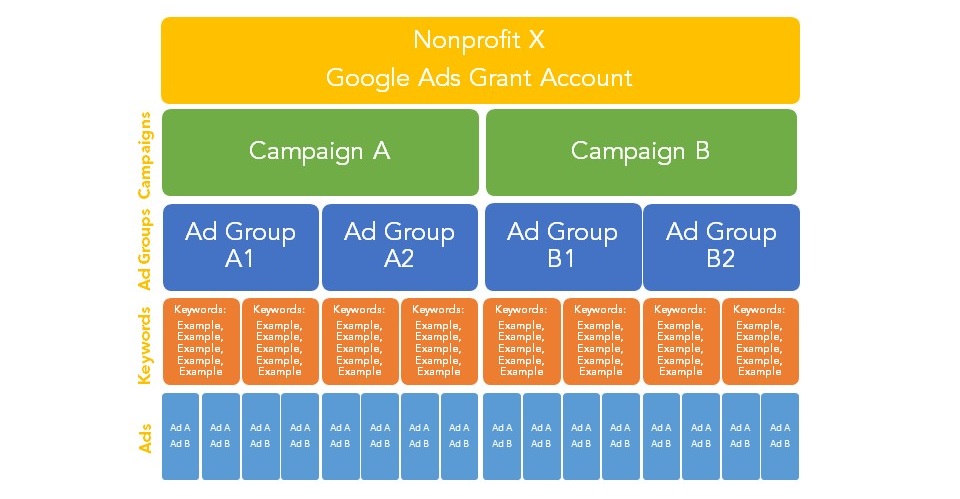 First, think big. Utilize different ad campaigns to target different areas of your mission. For instance, have a campaign targeting "community outreach," such as workshops or community events that your organization holds. Then, create a separate campaign for "support" or those who wish to donate and volunteer and another campaign for those who need your organization's services and are looking for your top content (you can get that data through Google Analytics). The number of campaigns your nonprofit creates will depend on how many different things that you would like to promote.
By creating focused ad groups within the campaigns, you are effectively raising awareness about each branch in your organization. For instance, someone who would like to volunteer their time to help your company may not be interested in attending workshops and vice versa. If you have one campaign and haven't broken down into focused ad groups (and eventually ads with specific keywords), you've missed half of your target audience.
Conduct Keyword Research
Choosing the right keywords for your Google grant campaigns and ad groups is one of the most important parts of a successful campaign. It is tempting to think the more keywords you have, the better and the broader your keywords the more people you will reach. What you want are 3-5 keywords that are extremely relevant to your mission and match the landing pages you'll promote in your ads. The best keywords have a high search volume but low competition. Google Ads offers a Keyword Planner that can help you analyze different keywords (or keywords for specific URLs on your site) for search volume and competitiveness.
Note: One of the stipulations of this free advertising program is that you can bid on any keywords that do not go above the $2 per click maximum, with some exceptions.
Target Your Most Popular Landing Pages
Once you have your campaigns and ad groups identified, you're almost ready to start drafting ad copy. But you should first identify the landing pages that you will promote through each ad. Your home page seems like a great option to link to because it offers links to every other part of your website. However, using the home page as your destination link decreases the chances that visitors will go anywhere else on your website. (Click fatigue!) They are more likely to take action if they do not have to spend time searching for the information they need. Instead, target a different and specific landing page for each ad group. If one of your ad groups is focused on volunteering, make the destination link your volunteer landing page. Take the visitor straight to the information they are looking for – Google will reward you for it.
Once you know where you're sending your visitors, start writing your ads. Here are the specifications for one ad:
Headline #1 = 30 characters
Headline #2 = 30 characters
Headline #3 = 30 characters
Description #1 = 90 characters
Description #2 = 90 characters
There are also extensions and other ad add-ons, but Google will prompt you to add these.
Remember, the whole purpose of the Google Ads "service" is for viewers to take action on your ad when it pops up on their screen. They need to be moved to do so. This means in each ad you need to have a strong and enticing call-to-action (CTA) that motivates the viewer to click on your ad and perform the desired action. Incorporate your CTA into your three headlines.
Split testing: Google Ads allows you to set up a split campaign where you can test two or more ads to different percentages of your audience. You can test how the ads are written, landing pages they are linked to, CTA, and keywords.
When setting up a split campaign, commonly referred to as A/B testing, one ad will be your control and the others your experimental. It is advisable to only test one variable in an add at a time (i.e., CTA) so that you know which variable is making the difference.
Hot tip: Take advantage of seasonal behavior such as the holidays or the different seasons and set up new campaigns. For example, create specialized campaigns that target end-of-year giving and adjust these campaigns as different times of the year roll around to keep them relevant and timely.
Test the Performance of Your Google Ads
Once your campaigns are active, the work still isn't over. Constantly monitor the performance of each ad. We recommend at least twice a week for the first month, once a week for the second month and then monthly from there on out. What are you looking for? Which ads or keywords are working the best and which ones need adjustments? Use the overview page in Google ads as your dashboard, or create custom reports bringing in the stats that are most relevant to you.
Hot tip: You can also set up a dashboard in Google Analytics (be sure to link your accounts). Search the gallery for already-made templates; there are some good ones out there that will save you time.
The Bottom Line
Optimization of your Google Ads = success, and efficient use of your Google grant. Following these tips will help you hone in on your target audience and entice them to perform the desired action.
Digital marketing is forever changing and your ads will need to be monitored and tweaked as the market changes. Remember that you will need to be flexible and go with the flow. Staying on top of these trends will ensure your Google Ads, courtesy of your Google grant will be successful!
Need help setting up your Google Grant? It's one of our specialties. Drop us a line to start the conversation.