5 Steps to Utilizing Social Media At Your Event
Social media is a great tool to connect with attendees (and prospective attendees) before, during, and after your event. You can use it as an awareness tool, as a way to educate and inform people about what to expect, and show people who didn't attend what went on.
But today, we're focusing on social media tactics during the event itself. Here are our top tips based on personal experience.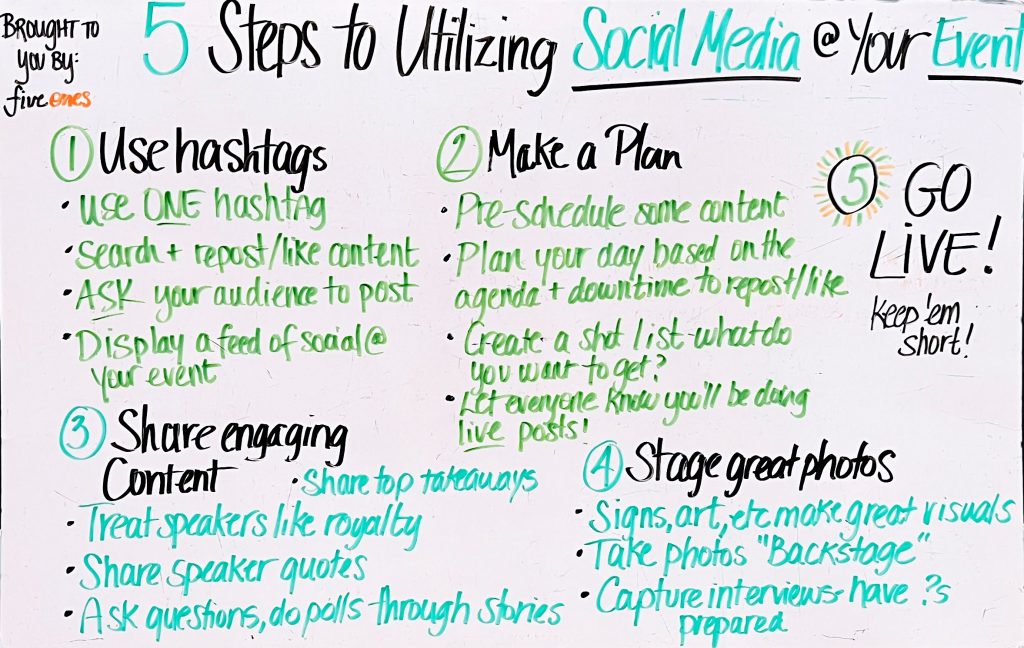 And if you want to skip right to the checklist, feel free to make a copy of this Google Doc.
Use hashtags
Even before the event day, come up with a branded hashtag. Put this on all marketing collateral for the event from the very beginning and ask people to post using it. Make sure all of your posts about the event use this hashtag, and then go in and see what others are posting.
Having one hashtag is a great way to aggregate posts, find user-generated content, and repost what people are saying. It's also fun to display a feed of posts that come in using the hashtag as a way to encourage people to create content of their own.
Make a plan
Go into the event with a solid plan of attack. You create a shot list for videos, so why not create one of what you want to capture for the day? Jot down a few things you absolutely must photograph or record and post about so you don't get caught up in the day's activities.
Then once you have your must-haves, sketch out how the day is set to go and pencil in dedicated time to post and engage. Scheduling certain content ahead of time can help, too, especially since you'll undoubtedly be busy during the event. This could include teasers of upcoming speakers, information on the day's agenda, and fun behind-the-scenes moments.
Share engaging content
You have a few posts ready to go, but it's important to share in real-time what's happening at the event. Before and after speaker sessions, share info about the person, their background, and the wisdom they provided. Be sure to tag them, too, so they reshare!
Put out an ask for what your followers want to know about the event, and then make sure you take the time to create content around that. And make sure you do an event recap at the end of the day with takeaways, thoughts, learnings, etc. This creates FOMO for those who didn't attend, but it also is a good reminder for attendees!
Stage great photos
Social media requires excellent photos. Think about a few different images you want to stage and share on the day of. Take photos of the speakers separately and together, get group photos for any marketing collateral you need, and get some behind-the-scenes shots, too! Tip: ask those holding drinks to set them down and use good lighting wherever possible.
And while you have people for a few seconds, pose questions that you can use in your posts, whether it's about how they're enjoying themselves, what their favorite part of the day was, or what they're looking forward to the most.
Go live
You can only share so much in real-time, so consider going LIVE during a certain period to give those not in attendance a sneak peek at what's going on. A great time to do this would be during the tail end of a notable keynote speaker.
But, if you just make sure you do one thing make it this—post, post, post! Events are ripe with engageable, shareable content moments so post as much as you can. You can even bank content to use in the future. And conversely, don't worry about sharing everything; that's why you came up with your plan. Hit the big things, share the fun moments, and make sure you enjoy yourself, too.